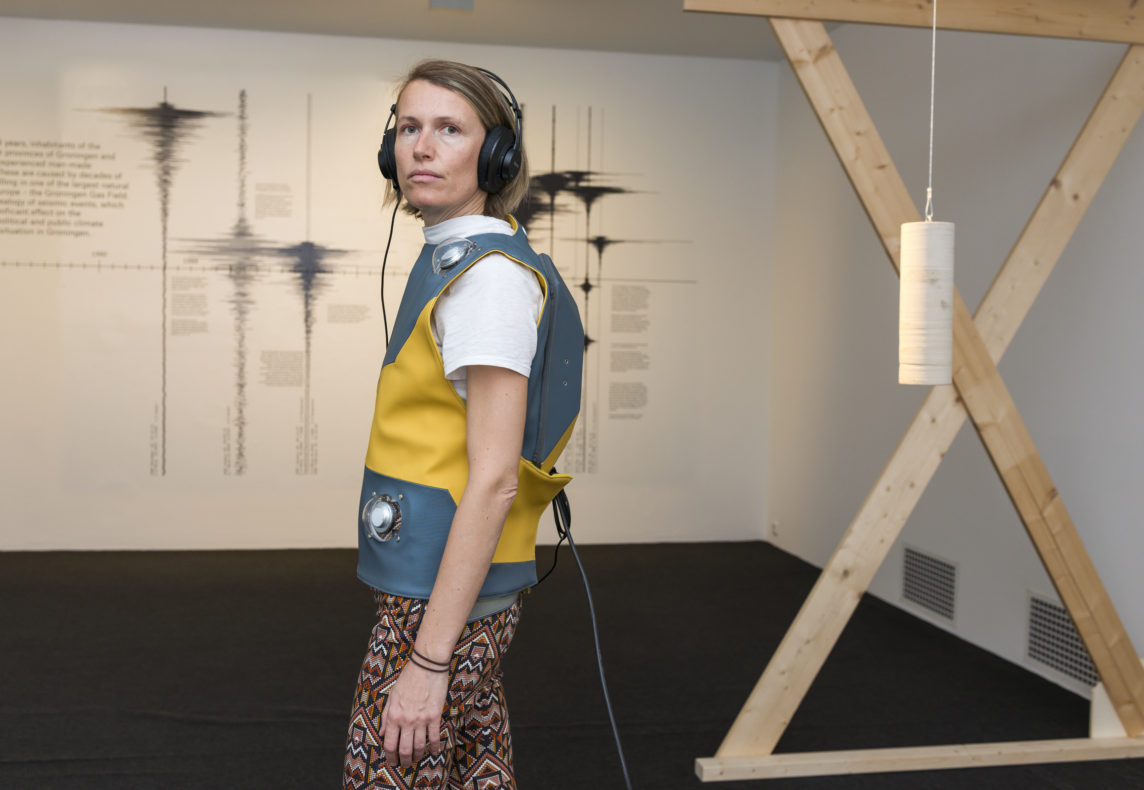 A Genealogy of Man-made Earthquakes
multi-modal storytelling via tactile vests, a narrative of voice and vibrations derived from the seismic archive of the Groningen gas fields, sandstone earth core samples, wooden scaffolding and written text.
Year
2020
Concept and Research: Sissel Marie Tonn

Composition and Data Sonification: Jonathan Reus
Interactive system and software/hardware development by Jonathan Reus
Wearable design in collaboration with Das Leben Am Haverkamp
Graphic design in collaboration with Marton Kabai
Supported By
For the last 32 years the north of The Netherlands has experienced man-made earthquakes due to gas extraction in the largest field for natural gas in Europe, the Groningen Gas Field. The work The Intimate Earthquake Archive, brings together research done by artist Sissel Marie Tonn with two different modes of 'storing' information of man-made earthquakes: The seismic activity of the earthquakes as meticulously recorded and annotated in the immense digital data bank of the Dutch Meteorological Institute (KNMI); and the personal stories of people living in Groningen, who can provide precise descriptions of feeling this seismic activity passing through their bodies to anyone willing to listen. Some of the people living with these man-made earthquakes even claim to wake up in their beds, before they feel the tremors across the earth.
Together with collaborating artist Jonathan Reus, Tonn developed this version of The Intimate Earthquake Archive as a stand-alone story-telling medium whereby an audience member puts on the vibro-tactile wearable and is led through a narrative of seismic activity from the past 40 years in the northern provinces of the Netherlands.