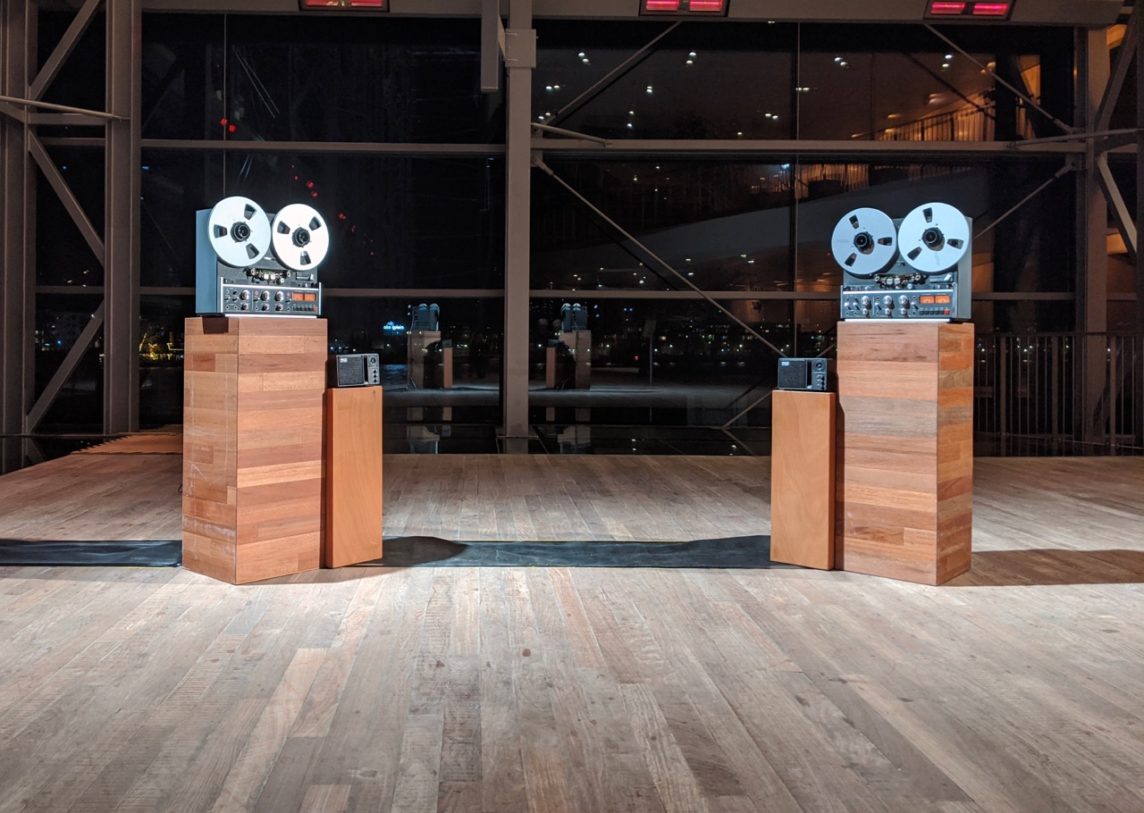 Wordless … at the End of History
Wordless, A Conversation with Morton Feldman and Samuel Beckett at the End of History
Two servers in a data center at the end of history attempt to create a conversation between Morton Feldman and Samuel Beckett that never occurred. Two text-to-speech (TTS) deep learning systems were trained on a set of publicly available recordings of the voices of Beckett and Feldman, the former being notorious for his refusal to be captured on tape, and thus making voice recordings of the artist very difficult to obtain. The algorithms are unable to convincingly generate speech from such sparse datasets, and instead create a more abstract soundscape that captures the underlying cadence and timbre of the voices of the two artists.

A computer generates the dialogue for each speaker, and then remotely controls each of the tape machines to rewind and overdub the latest generated piece of dialogue on to the tape, which then is played back. The repeated overdubbings add up to an increasingly fragmented voice-like soundscape. The conversation itself is generated by two natural language models that have been trained on a text corpus including over 500 reviews of work by the two artists, including 300 Amazon.com user reviews, a collection of lecture transcripts from Feldman, and publically released collection of written letters by Samuel Beckett.
The first edition of Wordless, a generative installation for two computer-controlled tape machines, was comissioned by Asko-Schönberg Ensemble for the 2019 Words and Music biennale at the Muziekgebouw, Amsterdam and was accompanied by a live performance featuring spoken word poets Stokely Dichtman and Justin Samgar together with a live coded version of the installation.
"Wordless …" installation, Words and Music Biennale
Live coding performance, Jonathan Chaim Reus with poet Stokely Dichtman
Live coding performance, Jonathan Chaim Reus and poet Justin Samgar


Two-screen installation, Algorithmic Segments, Graz 2021